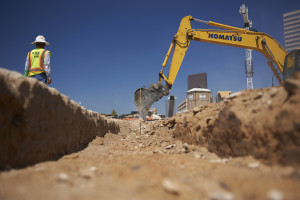 CIVIL CONSTRUCTION SERVICES – HOUSTON, TX.
Slack & Co. provides civil construction services, including earthwork, site work, mass excavations and underground utilities for Houston and South Texas. We maintain an unwavering commitment to the values that build trust with our clients: safety, quality, integrity, and professionalism. Our clients know that we will always deliver superior work and superior service. As a result, since 1992 we have developed strong relationships and completed a multitude of successful public and private sector projects.
WE BUILD SUCCESS. IT'S A COMMITMENT TO OUR CLIENTS AND A PROMISE WE FULFILL DAILY.
From pre-construction planning through completion, Slack & Co. is known for client-focused service, a professional approach and a desire to be part of the solution, not the problem. Our entire organization is committed to doing what is right for each project we take on – and this involves every person in our organization. This approach to business paved the way for us to become the specialty contractor of choice for our clients.
A Commitment to Safety Excellence
In an industry that often focuses more on the bottom line than on people, our client-focused approach truly sets us apart. Safely performing quality work is an integral part of daily life at every Slack & Co. job site, and safety will never be sacrificed for the sake of cost or schedule.